1. How can I upgrade faster as a novice?
① Step one, go to the Grocery Store in the village,
And purchase MOV SPD Potions, common skill books and main DMG skill books. The rest can wait. MOV SPD Potions boost your movement speed and attack speed. Please put it on the shortcut bar and use it frequently!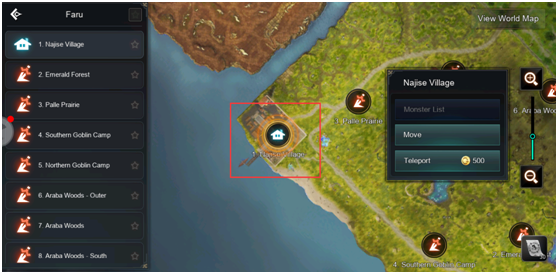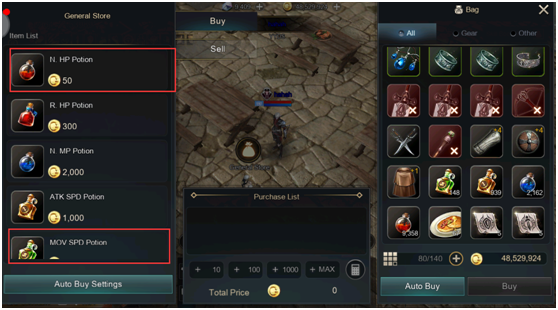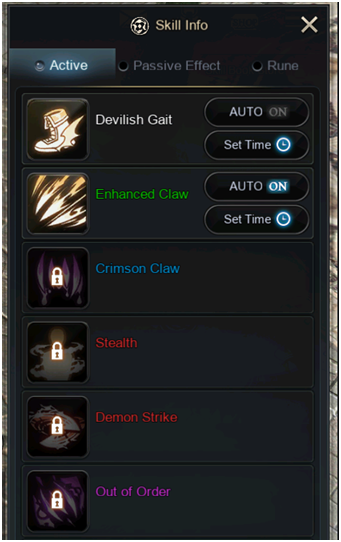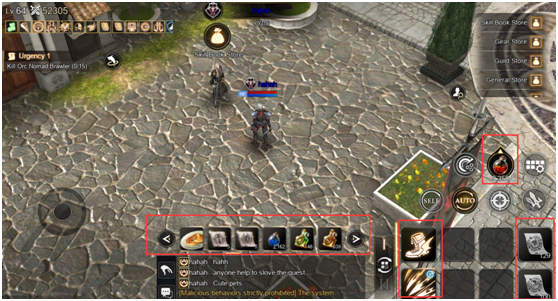 ② Team up to do quests and EXP farming in the early game
Quest items dropped from monsters killed by teammates also count towards your quests.
③ When using Auto Hunt in the wild alone, turn off "End Auto Hunt after completing quests" and turn on "Friendly Mode" in Settings.
Friendly Mode: Do not attack monsters being attacked by another player
2. Death during quests could lead to EXP and gear losses. What should I do?
① Turn on Auto Use Potions
If your HP continues to drop when the feature is on, it means you need to upgrade gear first.
② Use better gear
Gear drops from monsters of different maps and dungeons. Also, don't forget to equip and enhance it. If you want to get good gear quicker, go straight to check the Market!
1st Top-up also grants gear: Steel Shield, Steel Shoes and Steel Shirt.
③ Remember to redeem death losses.
There are 5 chances to redeem for free daily.
④ Stay away from players tagged with a red name!
Add players who kill you to Alert list.
3. How can I use Health Potion the most efficient way?
Choose proper monsters for your Auto Hunt, which means using N. Health Potions alone is enough to keep your HP at a stable level for a long time. Save R. Health Potions for PVP and bosses.
4. I don't want my skills to hit other players. What should I do?
Long press on the Auto button and select "Non-players".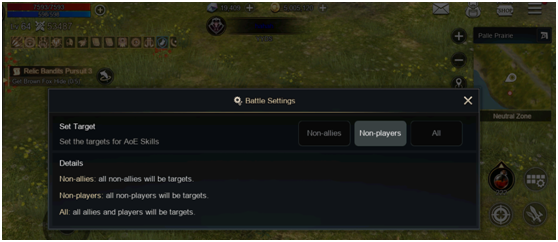 5. Do I get more EXP solo or on a team?
You may do this calculation.
Turn on the Battery Saver mode and record how much EXP you receive for solo fighting for 1 min.
Teammates affect how much EXP you get on a team. If you get less EXP on a team than fighting solo, change a team.
In a crowded place, ranged teams are more likely to earn EXP than the melee teams.
If you want to know how good your teammates are, check their Transmog, Rank and Guild.
6. How can I get rid of things I don't want?
Sell them to any NPC in any village.
7. How can I spend Gold the most effective way?
Daily purchase priority from high to low: Consumables, skill books, summons, scrolls.
Crafting gear and adding runes could significantly boost your power. Remember to save Gold for them.