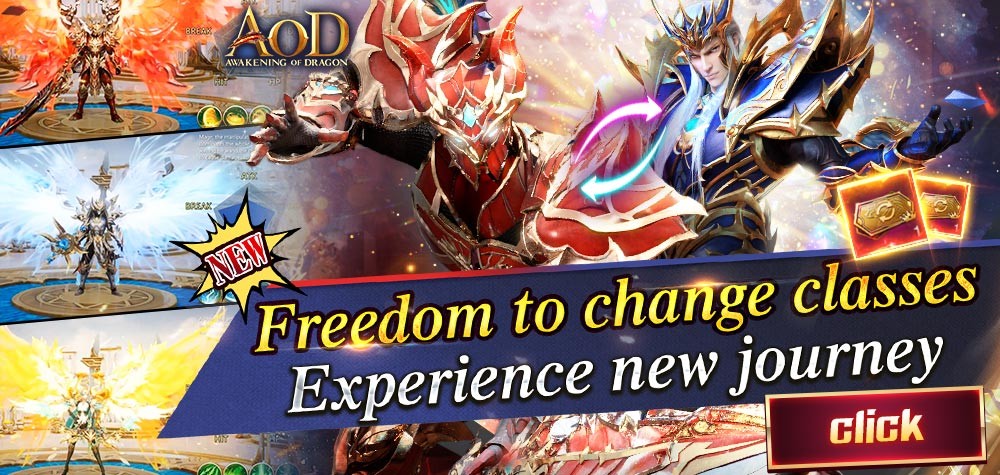 A new version of AOD has been released already!
Let's preview the new function of Class Changing and check Ocean Battle now!

■ Class Changing
1. Players who have completed
Fifth Awakening
can use
Class Change Card
to convert your current class into another class.
2. After class changing, the enhancements, Gem Slots, Refinements and Reforges attributes of equipment will be kept.
3. For the equipped/Backpack/Warehouse/in-mail equipment, Draconic and higher ones will be converted into the equipment of your new class.
4. The equipped/Backpack/in-mail Ancient God Holy Equipment will be converted into Holy Equipment for your new class.
5. The Backpack/Warehouse/in-mail Divine Weapon Shards will be converted into ones for your new class.
Other items will remain as they are.
6. After the conversion is completed, you will gain a related Class Conversion Card for your original class.
7. CD for each class changing is 7 days.
※Warm Tips
Class Change Card can be gained in events like Glorious Dragon Badge in the future. Please stay tuned.
■ Ocean Battle
Ocean Battle can be participated in the dungeon event in Daily - Limited Time Activities screen. It is a cross-server team dungeon. You can team up with players from other servers to join and kill the boss to get rare items such as Soul Divine Shield development materials.
※How to Join:
1. The event is available from 11:00-23:00 daily
2. Find Coliseum Teleport Envoy in the Dragon City of Storm to join the event.
3. You may create a room or join a room to join the event
※Feature Intro:
1. In the dungeon, defeat certain waves of minions to raise your arena rating. The higher the rating, the stronger the Boss.
2. A chest will be granted when a boss is defeated. You may use a daily free chance or a chest key to open it for generous rewards. The higher the rating, the better the rewards.
3. You may use Revive Now or wait till the Waiting Time ends to revive when you are dead.
4. In a dungeon, you may use Inspire for high DMG BNS or EXP Potions for extra EXP.
※Season Intro:
1. Players compete on a seasonal basis in Ocean Coliseum. Each season lasts 1 week.
2. A new season starts at 0:00 on the last day of the previous season. At the same time, ranking rewards will be sent via mail.
For more preview about new function, please keep following Platform News.(*^▽^*)